The solitary musician in Giovanni Boldini's (1842–1931) Lady with a Guitar (fig. 1) rests her instrument at her side as exuberant, impasto brushstrokes—a combination of short staccato marks and smooth, flowing legato passages—churn around her, evoking the energy and sound of music. Turning away from the viewer to gaze beyond the edge of the picture plane, she grasps the headstock of her guitar with long, elegant fingers. Is she watching fellow performers, waiting for her cue? Is she enjoying the adulation of her audience? Her short, elaborately embroidered jacket resembles a chaquetilla, or matador jacket, suggesting that she might be a Spanish musician. Is she part of a flamenco performance? Boldini invites his viewers to imagine multiple scenarios and narrative possibilities in this lively painting, which the Walters Art Museum acquired in March 2018.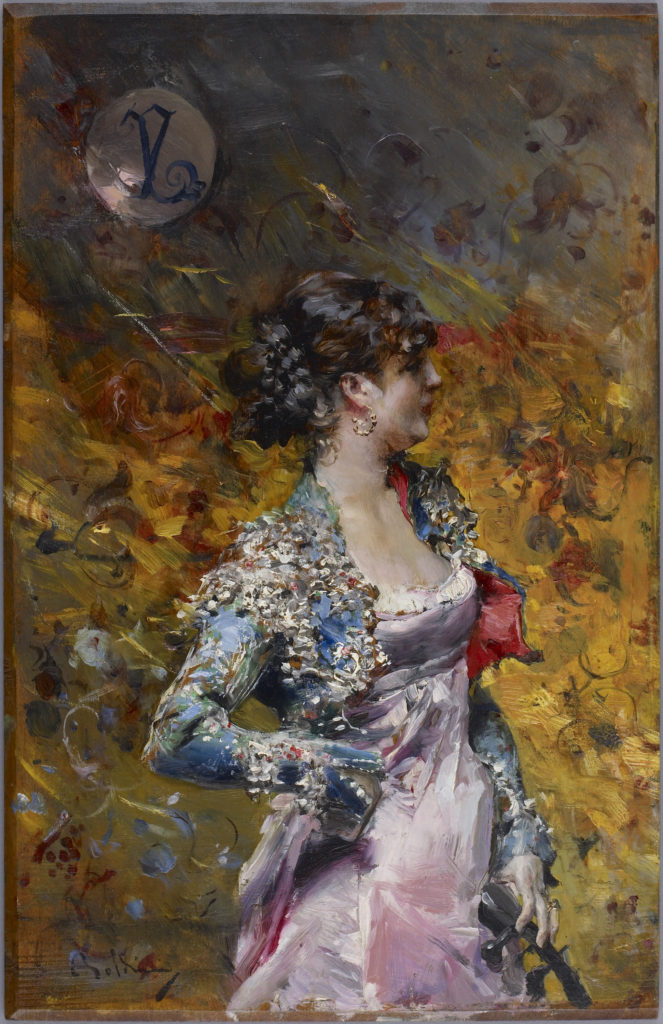 Born in Ferrara, Italy, Boldini began his artistic career alongside his father, a restorer and painter, and did not pursue formal academic training. He moved to Florence in 1864, and actively cultivated friendships by frequenting the same cafes as established, successful painters like Michele Gordigiani (1830–1909) and Telemaco Signorini (1835–1901), who helped form the Macchiaioli group of artists active in Tuscany.[1] These early friendships helped Boldini gain the confidence to exhibit his works publicly and to seek out relationships with artists outside Florence and beyond Italy's borders. After traveling between various English cities, Florence, and Paris, Boldini made Paris, the capital of the European art world, his permanent home in 1871. From his early years in the city, he explored a variety of styles and subjects, emulating the work of other artists, especially the French academician Jean-Louis Ernest Meissonier (1815–1891) and the Spanish painter Mariano Fortuny (1838–1874), best known for his jewel-like paintings rendered with expressive brushstrokes. During the 1870s, Boldini found commercial success by producing small-scale genre scenes painted in a style that combined precise, descriptive details with loose, visible brushwork. He completed Lady with a Guitar during this period, and it stands out among his other works from the 1870s: it is an intimate figure study rather than a genre scene.
His contemporaries remarked on Boldini's manner of painting, noting that artists did not typically convey minute details using such a gestural application of paint. In 1876, the Italian art critic Diego Martelli described Boldini's style as "such a mass of looseness and finish, of false and of true . . . that you must take him as he is, and not wear out your head making up theories about him."[2] The novelist and art critic Joris-Karl Huysmans remarked on a similar stylistic hybridity in Boldini's Dispatch Bearer (1879, Metropolitan Museum of Art):"Boldini is very curious. He has microscopic qualities like Meissonier, and agile brushwork like Fortuny."[3] This combination of seemingly opposed characteristics derives from Boldini's most prominent artistic influences. For example, while elements of Lady with a Guitar are abstract and painterly, the viewer can identify very specific details, including the gemstone ring on the musician's left hand and the beaded, golden hoop earring dangling from her ear. Boldini precisely captures the cut and exuberant coloring of the chaquetilla, but he evokes the jacket's elaborate ornamentation through layered colors and thickly applied paint. Lady with a Guitar, like his other works of the 1870s, is both evocative and precise, suggestive and specific.
Shortly after his arrival in Paris, Boldini rented a studio in 11 Place Pigalle, at the foot of Montmartre, close to the popular Café de la Nouvelle Athènes, where writers, performers, artists, and models gathered nightly.[4] He patronized the establishment, befriending fellow artists—such as Marcellin Desboutin (1823–1902) and Edgar Degas (1834–1917)—discussing emerging artistic trends.[5] Around the time of Boldini's arrival in Paris, ukiyo-e prints—a genre of Japanese woodblock prints—flooded the European market and captured artists' attention. These newly accessible works greatly influenced Boldini, especially as he experimented with compositional arrangements and color. One can see the influence in Lady with a Guitar, especially in the bubble-like, "LV" monogram that seemingly floats in the upper left corner of the painting. Like the titles, signatures, seals, and publishers' marks on ukiyo-e prints, Lady with a Guitar's monogram is separate from the composition and appears to hover on top of the painted image.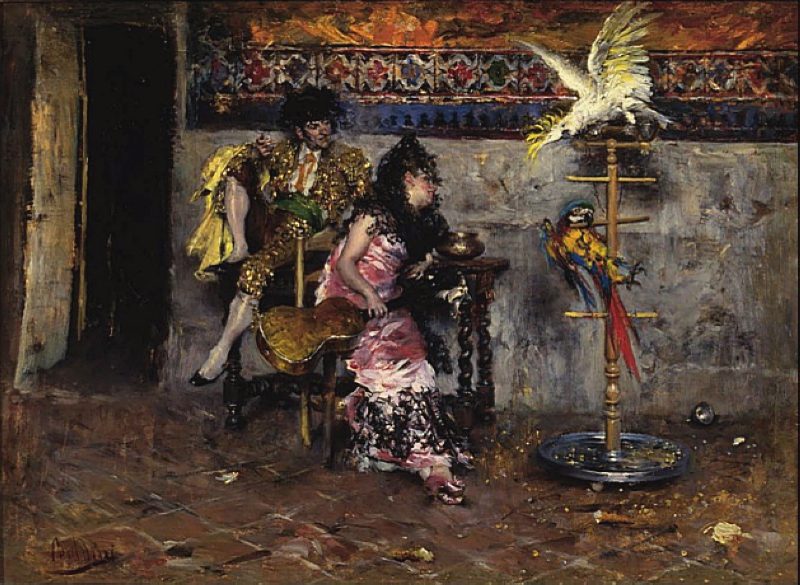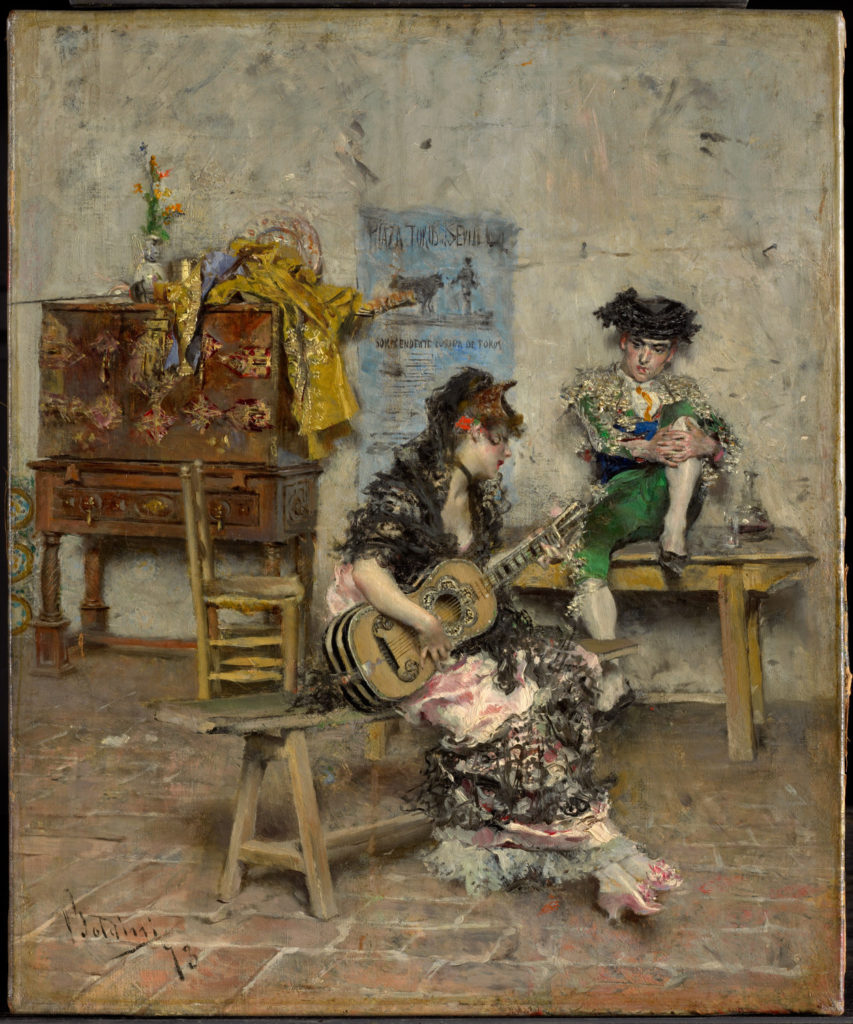 Depicting particular models in different contexts was common practice in nineteenth- century Europe. Fortuny, for example, regularly depicted the older male model in the Walters Art Museum's An Ecclesiastic; scholars have even identified the chair on which the man sits in photographs of Fortuny's Venetian studio. Meissonier, too, employed models, paying them to hold poses for hours as he perfected his compositions.
As well as relying on the physical presence of a model, Fortuny, Meissonier and Boldini amassed collections of studio props, which included furniture, textiles, costumes, and decorative objects for use in their staged compositions.[8] The painting Model and Mannequin—Berthe in the Studio (fig. 4), gives a sense of what Boldini kept in his atelier. In the painting, Berthe reclines awkwardly across the lap of a slouching mannequin on a golden, rococo-style sofa. Around the two models—Berthe and the mannequin—is an assortment of objects that Boldini might have used in his studio: textiles, easels, canvases, chairs, and other decorative objects. Indeed, one can recognize elements from Boldini's other paintings from the same period; for example, the white parrot perched behind the sofa appears in A Couple in Spanish Costume with Two Parrots (see fig. 2) and Two Women with a Parrot (1872–73, private collection). The pink satin fabric visible under Berthe's body, could be the pink Empire gown that appears frequently in Boldini's paintings from the 1870s, including Lady with a Guitar. The matador jacket featured in Lady with a Guitar was likely also part of Boldini's collection of studio costumes. Like the pink gown, versions of the jacket—albeit in different colors—appear in other works by artist, including A Guitar Player (fig. 3) and Couple in Spanish Dress with Two Parrots.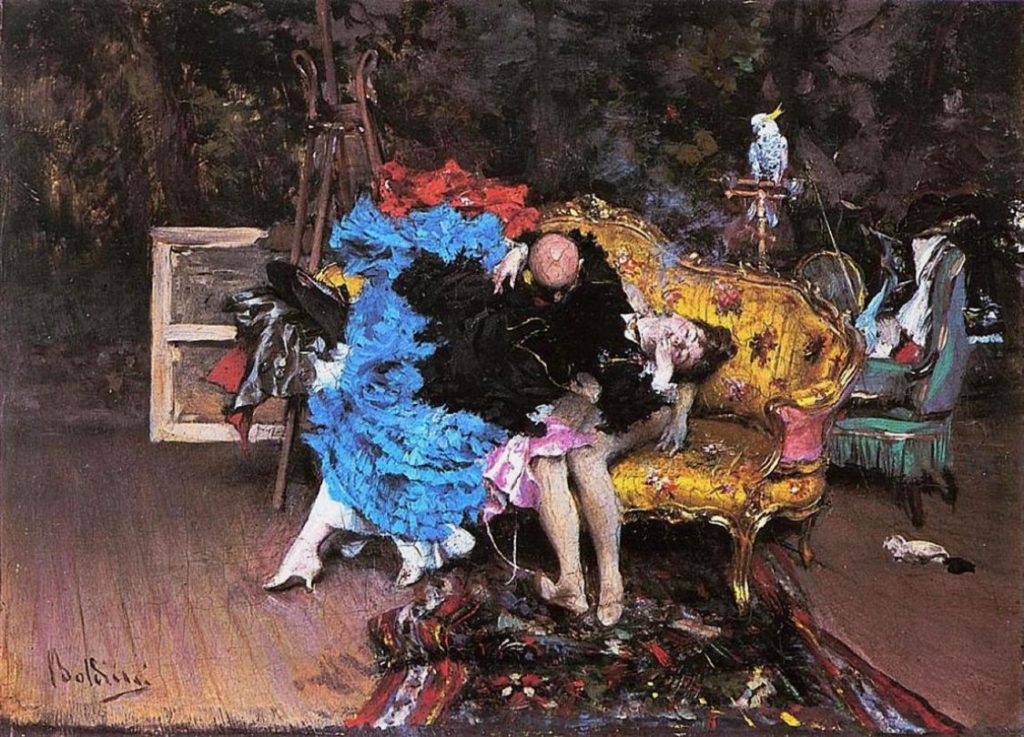 Lady with a Guitar, a painting of a female model by a male artist, is part of the long artistic tradition of erotically charged paintings of models in artist's studios, which often prioritize the male gaze.[9] The model in Lady with a Guitar looks off to the distance and remains unaware of the viewer/artist whose gaze falls upon her. While not as explicitly erotic as other nineteenth-century presentations of female models—such as Édouard Manet's Olympia(1863, Musée d'Orsay)—the portrait offers up the woman's body for visual pleasure. The figure's décolleté is at the center of the composition, and the open jacket's crimson lining and the luminescent quality of her skin further direct the viewer's gaze to linger on her body. Even the folds of her dress, bunching around her waist, direct the eyes toward her exposed chest and neck. Boldini invites the viewer to delight in the woman's soft, smoothly rendered skin.
Lady with a Guitar's subject and small size would have appealed to nineteenth-century collectors, especially Americans, who sought out intimately scaled pieces that depicted subjects grounded in historical painterly traditions. Boldini's paintings aligned with the popular interests of collectors and sold readily. Boldini sometimes sold his works directly, but they were also handled by Galerie Goupil & Cie, the Paris based firm which sold art by the most esteemed artists of the late nineteenth century: Meissonier, Fortuny, Jean-Léon Gérôme (1824–1904), and William Adolphe Bouguereau (1825–1905), among many others. In the 1870s, when American collectors—such as the wealthy New York textile merchant Alexander Turney Stewart, and the businessman and art collector William T. Walters—traveled to Paris to expand their collections of contemporary art, they also acquired works by the then little-known Boldini. William T. Walters acquired Boldini's In the Garden (fig. 5) sometime in the mid-1870s and hung it in his gallery, by then already popularly known as the Walters Gallery, at his Baltimore townhouse. This painting was on display by 1878, when he opened his collection to benefit Baltimore's Poor Association, and it is listed in his catalogue as a "good specimen of the work of a very original and talented artist, who paints much after the style of Fortuny."[10] William's son, Henry Walters, augmented his father's collection by purchasing another Boldini painting, Peaceful Days, now known as Young Woman Crocheting (fig. 6) in 1917 and displayed it in his Manhattan apartment.[11]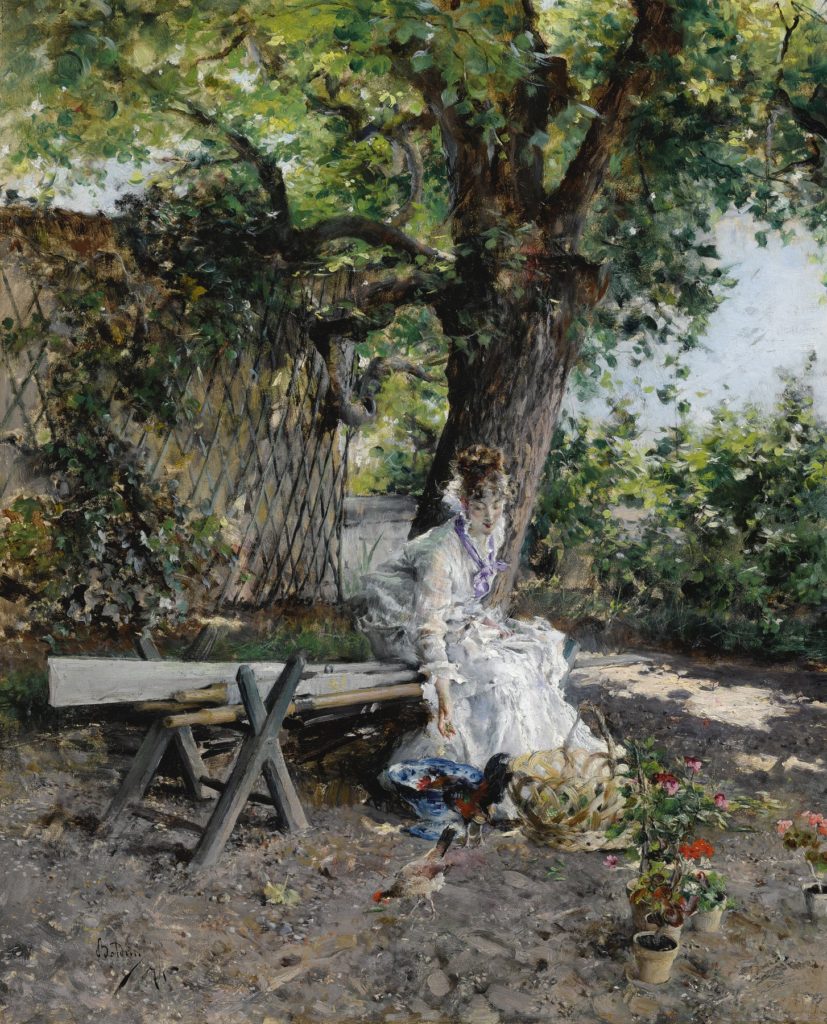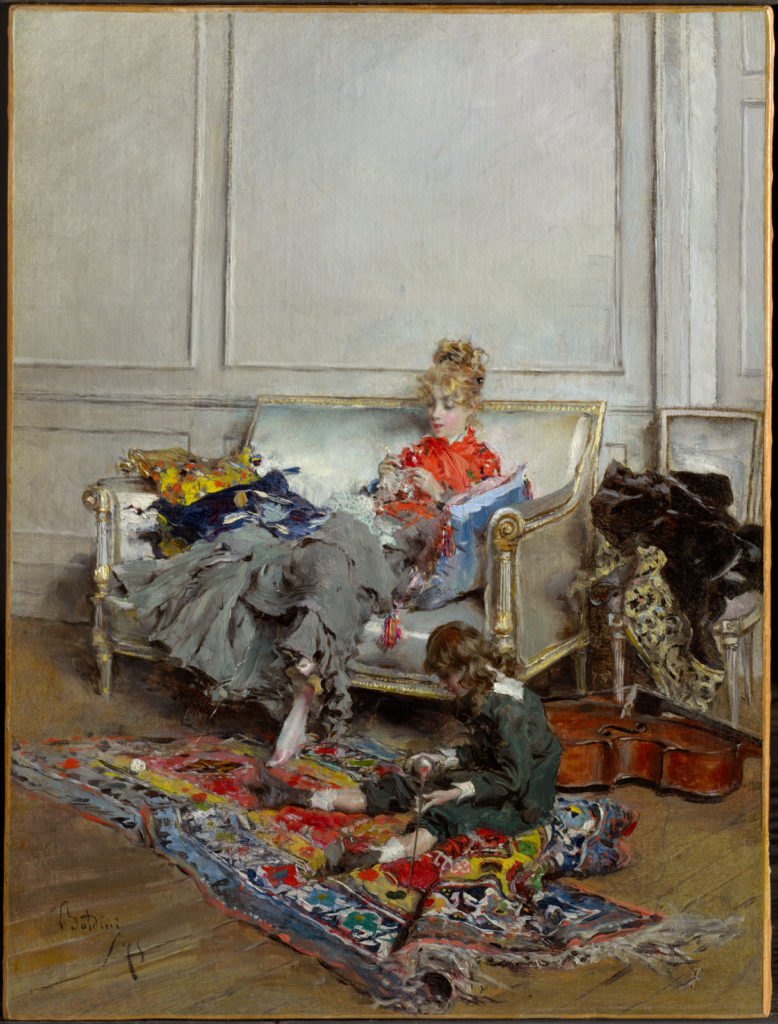 Both In the Garden and Peaceful Days date to Boldini's early years in Paris, before he found international acclaim for his large-scale society portraits.[12] Neither William's nor Henry's Boldini paintings, however, remained in the Walters Art Museum's collection; William sold In the Garden sometime before 1884 and Henry bequeathed Peaceful Days to his wife, who auctioned it with her personal collection in 1941.[13] The recent purchase of Lady with a Guitar therefore fills this lacuna in the collection, first as the first work by Boldini to enter the Walters Art Museum since it became a public institution in 1931, and second as it dates to the same period as the canvases once owned by William and Henry, thus embodying the qualities of Boldini's early oeuvre. Until now, this painting has been in a private collection and never publicly exhibited. Lady with a Guitar not only allows the museum to present a richer history of European art and the museum benefactors' collecting practices, but it also opens up more opportunities for visitors and researchers to explore the multiple styles and artistic networks that enlivened the art scene in nineteenth-century Paris.

Joanna M. Gohmann ([email protected]) is a provenance researcher at the Freer Gallery of Art and Arthur M. Sackler Gallery of the Smithsonian Institution, Washington, DC. Previously, she was the Andrew W. Mellon Postdoctoral Curatorial Fellow at the Walters Art Museum.
---
[1] Sarah Lees, "Giovanni Boldini in Impressionist Paris," in Giovanni Boldini in Impressionist Paris, exh. cat., Palazzo dei Diamanti, Ferrara; Sterling and Francine Clark Art Institute, Williamstown, Mass.(New Haven, 2010), 20–23.
[2] Diego Martelli 1878, quoted in Lees, Giovanni Boldini, 61–62.
[3] Joris-Karl Huysmans, L'art moderne (Paris, 1883), 63: "M. Boldini est plus curieux. Celui-là a des microscopies à la Meissonier, et des agilités de pinceau à la Fortuny."
[4] For the Café de Nouvelle Athènes, see Georges Bernier, Paris Cafes: Their Role in the Birth of Modern Art (New York, 1986), 54–76.
[5] Lees, Giovanni Boldini, 44.
[6] Lees, Giovanni Boldini, 44.
[7] Lees, Giovanni Boldini, 26.
[8] For an analysis of the contents of Fortuny's studio, see Carlos G. Navarro, "La historia domesticada: Fortuny y el coleccionismo de antigüedades," in Fortuny (1838–1874), ed. Javier Barón, exh. cat., Museo del Prado (Madrid, 2017), 373–425. For a description of Meissonier's use of tableaux, props, and models, see Marc J. Gotlieb, The Plight of Emulation: Ernest Meissonier and French Salon Painting (Princeton, N.J., 1996), 108–20.
[9] For studies of the relationship between male artists and female models, see Carol Duncan, "Virility and Domination in Early Twentieth-Century Vanguard Painting," in Feminism and Art History: Questioning the Litany, ed.Norma Broude and Mary D. Garrard (New York, 1982), 292–313; Linda Nochlin, "Women, Art, and Power," in Art and Power and Other Essays (New York, 1988), 293–313; Marie Lathers, Bodies of Art: French Literary Realism and the Artist's Model (Lincoln, Neb., 2011); and Susan S. Waller, The Invention of the Model: Artists and Models in Paris, 1830–1870 (Burlington, 2006).
[10] W.T. Walters Collection: A Descriptive Catalogue Prepared for the Poor Association by a Well-Known Critic Connected with the Press and Sold for Their Exclusive Benefit (Baltimore, 1878), 13.
[11] Parke-Bernet Galleries, New York, The Mrs. Henry Walters Art Collection: Public Sale, April 30 and May 1–3, 1941, lot no. 968.
[12] For analysis of Boldini's society portraits, see Piero Dini, "Il rinnovamento del ritratto: Dalla 'macchia' alla Belle Époque," in Giovanni Boldini, ed. Piero Dini (Pistoia, 1984), 31–57;, Boldini e la Belle Époque, ed.Sergio Gaddi and Tiziano Panconi, exh. cat., Villa Olmo, Como (Milan, 2011); and Lees, Giovanni Boldini, 192–94.
[13] William Walters sold In the Garden between 1880 and 1884; the date of sale is unrecorded. the painting was in William's collection in 1880, as Edward Strahan includes it in his "Catalogue of Mr. W. T. Walters' Collection" in The Art Treasures of America: Being the Choicest Works of Art in the Public and Private Collections of North America (Philadelphia, 1880), 94. The painting does not appear in the 1884 guide to Walters' gallery: The Art Collection of Mr. William T. Walters, 65 Mt. Vernon Place, Baltimore (Baltimore, 1884). The painting resurfaced in the 1891 sale of the Musgrave Collection, belonging to the New York financier T.B. Musgrave (1830–1912); see Ortgies & Co. for Fifth Avenue Art Galleries, New York, Catalogue of the Musgrave Collection of Modern Paintings with Additions from the Estate of the Late E.H. Smith, April 7, 1891, lot no. 54. Henry Walters acquired Peaceful Days on January 17, 1917, from an auction at the American Art Association. For the sale of this painting in 1941, see Parke-Bernet Galleries, New York, The Mrs. Henry Walters Art Collection: Public Sale, April 30 and May 1–3, 1941, lot no. 968.